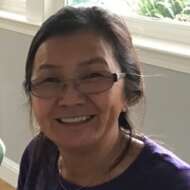 I love Process Therapy Institute from the moment I learned and discovered while in JFK university that it is all about me and how I was going to face who I AM. The gift of self-realization is priceless.
I am from the Bay Area, grew up in San Francisco and moved to the south bay after the big earthquake in 1987. Here in Silicon Valley, I raise two sons now grown adult children who taught me great lessons on how to be a mother, how to listen, and how to love. I am recently a retired schoolteacher and learned from high school students with special needs, their difficulties and challenges in school.
I am in gratitude for the opportunity to work with clients who is giving voice to their concerns, and trusting their experience with me, and allowing me to fiddle along with them. Truly this is a gift of the lifetime. Namaste.