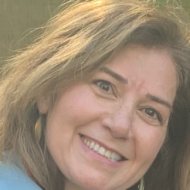 I like to offer you a safe space to explore your relationship with yourself and the significant people in your life. I can support you with communication skills that can express your needs and develop healthy connections with your family members, friends and coworkers. Through experiential practices in session, you can connect with the wisdom of your mind and body to heal from past traumas and address present adversities.
I have years of experience working with children and parents in different settings. I have two teens of my own and have been married for twenty years. I have a masters in history which has taught me how people come to develop their values. I will be mindful and respectful of your values/culture. I have a masters in counseling psychology that has educated me in seeing patterns and causes of behaviors.
Together we can face and examine the past while developing your professional and personal goals. I hope to meet you soon.