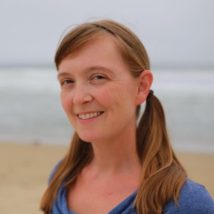 Danielle specializes in supporting children, teens and adults with anxiety, OCD and depression, using Team CBT and mindfulness-based interventions. She also has a strong background in couples therapy, and she offers Emotionally Focused Therapy with an emphasis on somatic and mindfulness-based healing interactions between the couple during sessions. She empowers couples with Non-Violent Communication tools, helping partners to practice empathy / listening skills with each other. She is passionate about helping couples deepen their connection and improve communication. She also enjoys helping parents (both as individuals and as a couple) develop relationally-based parenting skills. Danielle is warm, kind, and skillful.
Danielle is trained as a Cognitive Behavioral Therapist (CBT) through the Feeling Good Institute using the TEAM CBT model. She also has an extensive background in teaching evidence-based mindfulness practices and has been at the Process Therapy Institute sice 2012. She supports parents with mindful parenting tools and has facilitated Mindful Moms groups through Mind Body Moms at Google. Danielle also has experience working with children. She was trained to teach mindfulness through Mindful Schools, and she has been teaching mindfulness to children in elementary school in Los Gatos, San Jose, and Campbell.
She is also a Certified Yoga Teacher and Certified Parent Educator in Positive Discipline. Danielle has a wealth of tools to offer, and enjoys working collaboratively with clients to find the most suitable and effective approach for each, unique individual.