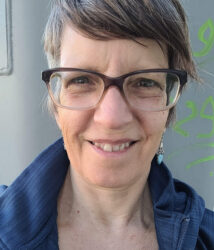 "I would rather have feelings without words than words without feelings." — Sanober Khan
I have made paintings with unreadable words, the silent scream that lives within if not expressed.  An artist who uses pen and brush to express my inner landscape, I have also used the bits and pieces of torn paper to collage back together the fragmentation of a torn childhood.  Having experienced the early divorce of my parents and other childhood adversities, I try to make sense of all the different parts of my life.
In the process of setting brush to canvas, pen to paper, whatever the medium may be, I find discoveries of hidden feelings—everything I have buried.  I don't know who I am if I'm not painting.
Our lives are fraught with distance and alienation.  We might be disconnected from our purpose, from relationships, from what we are doing this very moment. . .we may be disconnected from ourselves.
Are there parts of you that you love?  And parts that you want to change, or wish didn't exist at all?  And parts that you may want to get to know and accept?  Some parts of ourselves that lay buried and undiscovered?
Would you like to listen to all aspects of yourself and let your voice be heard?  This is a place where you can be yourself.  I am a dedicated witness to your unique expression, to what you need to express.  I am here to offer space to accompany you on your inner journey.
"Your emotions make you human.  Even the unpleasant ones have purpose.  Don't lock them away.  If you ignore them, they just get louder. . ."  — Sabaa Tahir, A Torch Against the Night