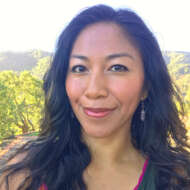 "Everything in the universe is within you. Ask all from yourself." ~Rumi

The environment and space created within the therapeutic relationship not only heals, but it also connects all parts of who you know you truly are within. 
In our time together in session, my hope is to be present with you as your confidant in what it is that you are experiencing, exploring, and learning about yourself. I believe that all people are inherently whole from pre-birth, birth and through our developmental growth to knowledge of ourselves; that it is in our most challenging times in life that we find our deepest sense of resilience, purpose and path that creates a space within: one that is centered with your own personal truth and knowledge of your authentic self. 
In our sessions together, I am present with compassionate awareness of your valleys and help you maintain the peace of your mountains. I will help you focus with clarity for your well being that feels right for you through connecting with the wellspring of wellness that is inherently inside all of us. Through my graduate studies in Counseling Psychology and Expressive Arts at Sofia University, my clinical work in clinical hospital prevention programs, mindful practices (RYT-200, MBSR certified Mindful Leader), sound frequency meditation research on InsightTimer, and many years of private coaching, corporate, university and healthcare experience, I understand and know that you are a person who is committed to your growth and knowledge of yourself. It just takes some time to be with all of it, and that is also okay. Connecting with the innate intelligence within all of us in being allows for a nurturing and rich life experience filled with joy, ease and grace. Sometimes the best medicine is just allowing yourself the space and grace to be with what is there. My hope is to be a witness to your path of healing and progress. 
My personal experience traveling across the globe has given me insight on multicultural issues as a third-culture, second generation American who grew up in a military family. I specialize working with individuals, couples/partners, and families who are struggling with anxiety, depression, life transitions, and relationships both at home and at work. I also offer my practice of trauma-informed therapy in a mindfully-based way in times of tremendous change. 
Reaching out for support during a challenging and difficult time is okay. My encouragement for you is the experiential knowledge that things can and do get better. With safety, empowerment, self compassion, and a welcoming way of being in a non-judgemental atmosphere, I hope that these elements are just the beginning pieces for you to explore all parts of yourself within the therapeutic process.  
With very good wishes for your path and sending you lots of care,