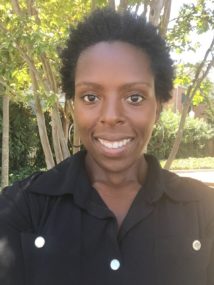 KARLA AMANDA BROWN, MA, CCHT, MFT Intern #73579 
believes that the sooner we can consciously connect 
with the everlasting process of change, also known as life, 
the better off we will be. She believes that our ability 
to connect comes through building an awareness of 
subconscious desires and intentionally using these desires 
as we make contact outside of ourselves.
In my practice, I work with adults and families who are making their way through trauma, anxiety, sexual and gender identity wounds and ethnic identity concerns.
I am also uniquely familiar with the concerns faced by families with special needs. For many years, I have worked in the California Regional Center system helping children and adults with developmental disabilities and their family members to advocate for their needs and wants. For a family with a special needs person, no longer can a family simply do and be. The circle of support is large, involves many professionals and is only sometimes helpful. I understand how scary life can be for an aging parent or caretaker as they consider the future that lies beyond them. I also get how wounding development may have been for a sibling – for you too, I am here
My energy as a therapist is fueled by those who are curious about how to become better versions of themselves by changing the stories they tell themselves. If this describes you, I invite you to come be curious with me and in the process notice how your stories transform.
EDUCATION & TRAINING
I hold a BA in Communication Studies from Cal State Sacramento and an MA in Counseling Psychology from the University of San Francisco. In addition, I have been certified as a clinical hypnotherapist through the Hypnotherapy Training Institute and use my tools only to help you take yourself where you want to go.
Karla is employed at PTI as a counselor. You can reach her at 408/963-6694×404, or email her at karla@processes.org.